Warframe Weapons
From Polar Lights Wiki
Braton Prime
Image

swap out Thermite Rounds and High Voltage for Heavy Caliber and Vigilante Armaments
Dread
Image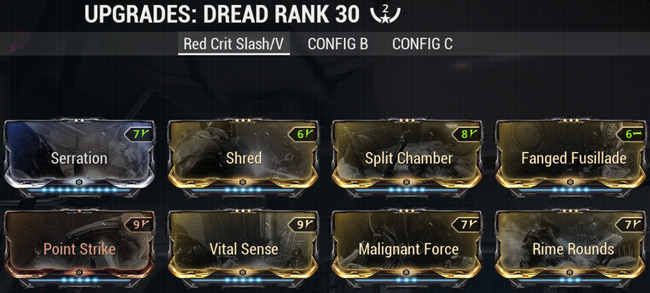 Kohm
Dismemberer
Used with a Desecrate Nekros and a Carrier with Vacuum and Ammo Case precept mods (to keep up with the huge amount of ammunition this thing gets through), to dismember bodies for extra chances at loot drops from desecrate.
Image

Viral / Slash
Uses the very strong slash/viral status combination to have damage scale into higher levels. Again this is going to run out of ammunition, so is only really usable on a Nekros with a Carrier.
Image

Elements
Switched to elemental damage, with an ammo mutation mod (about the only way to use this on anything other than a Nekros).
Image

Sobek
Image

Soma Prime
Image